The Lighthouse Company, the bespoke headhunting firm led by Kathleen Saxton, has announced three promotions within its core London team as it looks to expand and develop its offering to both clients and candidates.
Tony Samways and Bella Stoppani have been promoted to the new role of Account Director. In this role, each will take greater responsibility for leading all parties through the Lighthouse's thorough, yet fast-paced, matching process to ensure the best possible partnership between candidate and client.
Cesca Nichol, has been promoted to the role of Head of Research, leading the Lighthouse's specialist team. In this new role, Nichol will work with Saxton to provide in-depth mapping, insight and intelligence reporting to support every part of the hiring process.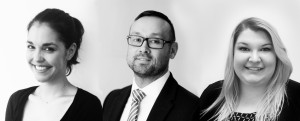 From left to right: Bella Stoppani, Tony Samways & Cesca Nichol
Speaking of the new roles, Kathleen said, "These promotions are testament to the incredible work that all three have carried out in creating the best Victorious Partnerships between our clients and candidates.  Each and every one of the great pairings that we make has been impacted by their focus, drive and passion for our business and I very much look forward to watching all three excel and develop in their new positions."
These promotions follow Kathleen's recent announcement about the launch of a new company, Psyched, offering bespoke leadership programmes for leaders in the advertising, media and marketing communities.  She will launch the business in partnership with leading psychotherapist and coach, Ben McKie.