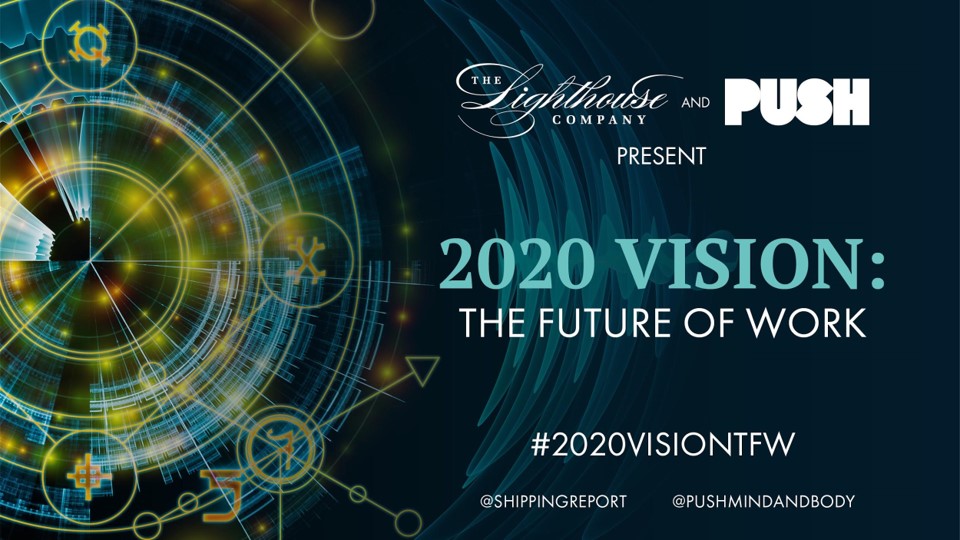 As we know, the world of work is changing at an exponential speed.  The Lighthouse Company in partnership with PUSH hosted 2020 Vision: The Future of Work with expert speakers to discuss what the next decade of work may look like.
In the last ten years, technology has transformed our offices, careers and the way we communicate with one another. With increased flexibility, frequent changes in the political climate and employee wellbeing coming to the forefront, the way we think about work has evolved too.
What we know for sure is that the way we've been working isn't going to work anymore, but how can we evolve with this change rather than push against it? Potentially, organisations are tackling a new way of working with old practices, so critically, we need to future proof our business as well as ourselves.
The next decade is on the horizon; it's time to illuminate, inform, debate and look towards the transition into the next decade with expert speakers discussing the future of work, the mind and body at work, the physical workspace and the need for a refreshed view of how to lead in the future modern workplace.
A huge thank you to the leaders who joined us for breakfast at the Century Club and for those whose schedules did not allow, hear from our expert speakers below.
Being Human in a Machine World
Julia Hobsbawm OBE, Entrepreneur, Author and Founder of Editorial Intelligence
Julia Hobsbawm is an entrepreneur and writer who addresses the problems and solutions of humans in the machine age. In 2019 James Harding, Founder of Tortoise Media and former Editor of The Times and of BBC News, described Julia as 'one of the most important public intellectuals in the UK'.
The Future of Work…is "Brainwise"
Dr. Tamara Russell, Neuroscientist and Clinical Psychologist
With the tagline "2 PhDs and a blackbelt" Tamara brings a unique multiple perspective to her work supporting innovation and change. Her approach blends psychology, neuroscience and martial arts for a uniquely integrated solution to navigating the uncertainties of our current business.
Debate: What does the Future of Work Look Like?
Bruce Daisley, Author and European VP, Twitter
Bruce Daisley is European Vice-President for Twitter and host of the UK's number one business podcast, Eat Sleep Work Repeat.  His highly anticipated book, The Joy Of Work: 30 Ways to Fix Your Work Culture and Fall in Love with Your Job Again (January 2019), tackles the key issues of 21st century office life, providing practical, empirically-tested advice on how to create a more productive and inspiring work culture.
Rory Sutherland, Author and Vice Chairman, Ogilvy
Rory is the Vice Chairman of Ogilvy, an attractively vague job title which has allowed him to co-found a behavioural science practice within the agency. He works with a consulting practice of psychology graduates who look for 'unseen opportunities' in consumer behaviour – these are the very small contextual changes which can have enormous effects on the decisions people make.
Energy – An Organisation's Most Important Asset
Geoff McDonald, Keynote Speaker, Mental Health Campaigner and Business Transformation Consultant
Geoff McDonald is now best known as a global advocate, campaigner and consultant who is passionate about addressing the stigma of mental ill health in workplaces, and about helping organisations embed purpose as a key driver of business performance.