Marie Claire's live panel discussion on how to future proof your career, in partnership with Salesforce, was truly inspiring.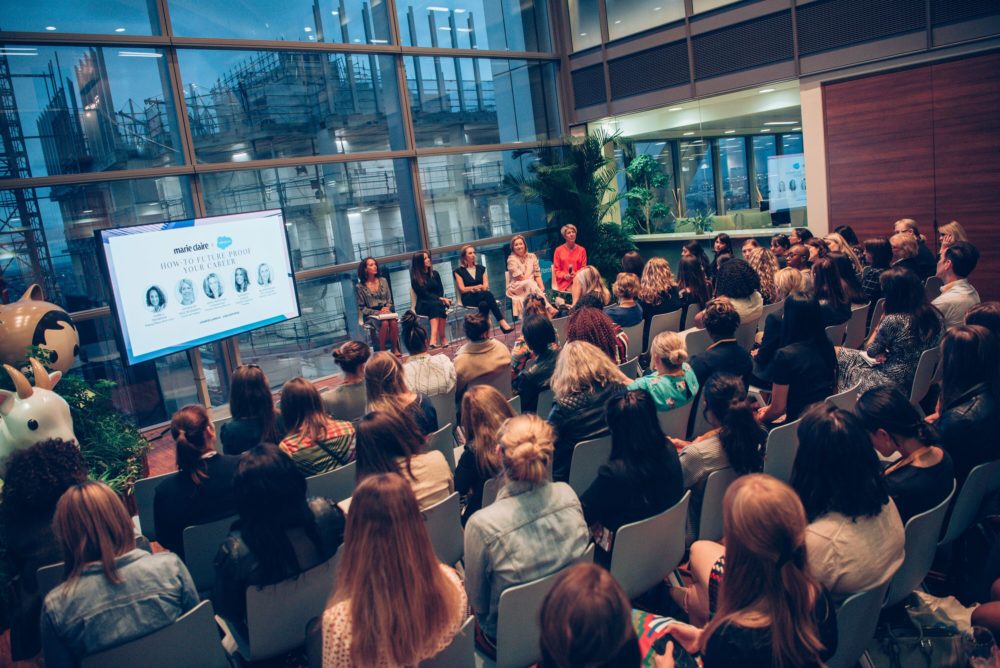 Marie Claire, in association with Salesforce, organised a live panel discussion to share expert advice on all things career. A recent study shows that future proofing your career is the number-one work worry, so we invited four pros from across the business landscape to share their top tips for success and explore the skills you can learn now to create exciting opportunities and innovate the way you work.
Kathleen Saxton – Founder, The Lighthouse Company
Kathleen Saxton is the founder of headhunting firm The Lighthouse Company, and co-producer of Advertising Week Europe. She is also a trained Psychotherapist with her own private practice in London and runs Executive Development programmes with a focus on bringing psychotherapy into the boardroom.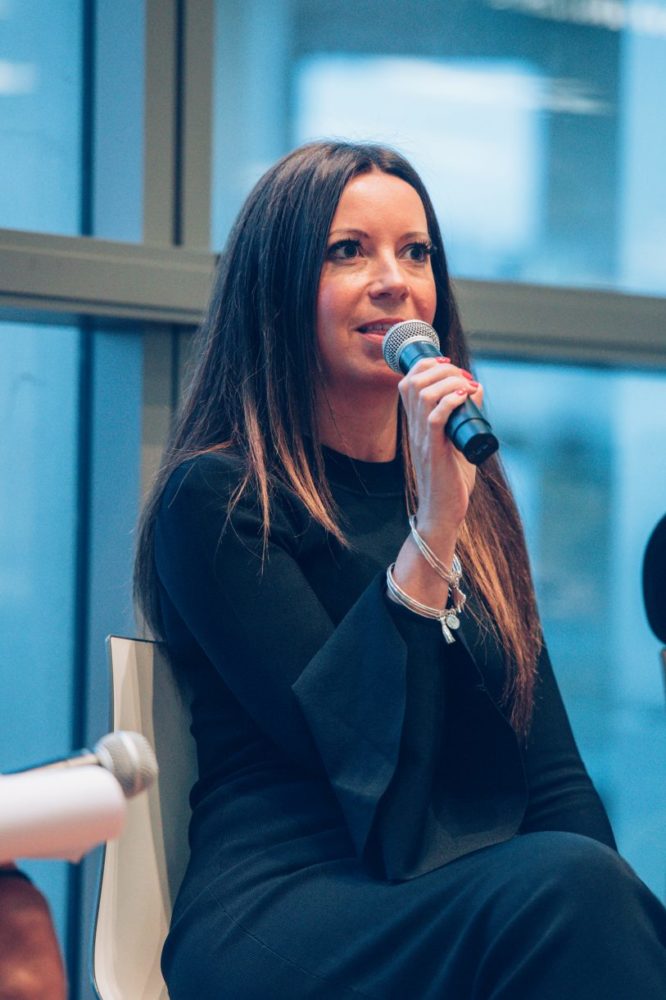 Multilingual versus monolingual
'Current research on the cognitive effects of bilingualism notice a correlation between a higher level of working memory, perception, attentional and inhibitory control versus their monolingual peers. As it becomes increasingly evident that the world is in transition, the need to be multilingual of craft (analytical and creative, relational and an individual contributor) will become more imperative to professionals, no matter the sector or trade.'
A three-career lifetime
'Given that generation Z may live until they are 100, the outmoded notion that we will all retire at 60 increasingly appears to be a misnomer. Whilst many people plan a full-time career which slides via portfolio consultancy into retirement, it is becoming both fashionable and a requirement to plan for a secondary career. Research is clearly indicating that Gen Z will in fact have 3 careers in their lifetime. What are yours going to be?'
True equality – be the change
'In a world where inequality is rife and correction is becoming apparent, ensure you take personal responsibility for achieving, demanding and orchestrating equality in every sense for yourself and those who come after you. Don't wait for someone to tell you that it is time for your next move or to be promoted, make the move for you. Benchmark your salary with the wider industry and against your peers, and don't be afraid to ask for what you want and what you deserve. Evidence versus emotion is your strongest negotiating tool.'
Fiona McIntosh – Co-founder and Creative Director, Blow Ltd
Fiona McIntosh is the Creative Director and Co-Founder of the award-winning Blow LTD – the UK's largest and fastest growing on-demand beauty services app, which delivers expert beauty treatments to your door seven days a week.
Know what you are not good at – which is just as important
'Surround yourself by people who have the skills you don't have. No one person can be good at everything, it's important to recognise that, particularly when you are starting a business.'
Be prepared to apply what you are really good at to other industries 
'If it's a core skill and you have built up a reputation for being good at it, other businesses will need it too.'
Stay on top of emerging opportunities
'The job world is moving so quickly now it's scary, but also exciting because of emerging opportunities. Make sure you are always on top of them by reading industry blogs, networking and tracking any changes in the job market. Go out for that coffee with someone you worked with years ago – it's amazing what you might learn. Stay nimble and informed.'
Antoinette Dale Henderson – Business Coach, Speaker and Author
Antoinette Dale Henderson is an award-winning speaker, author, global expert on leadership and founder of The Gravitas Programme, which she launched to provide clients with transformational techniques to fulfil their true leadership potential.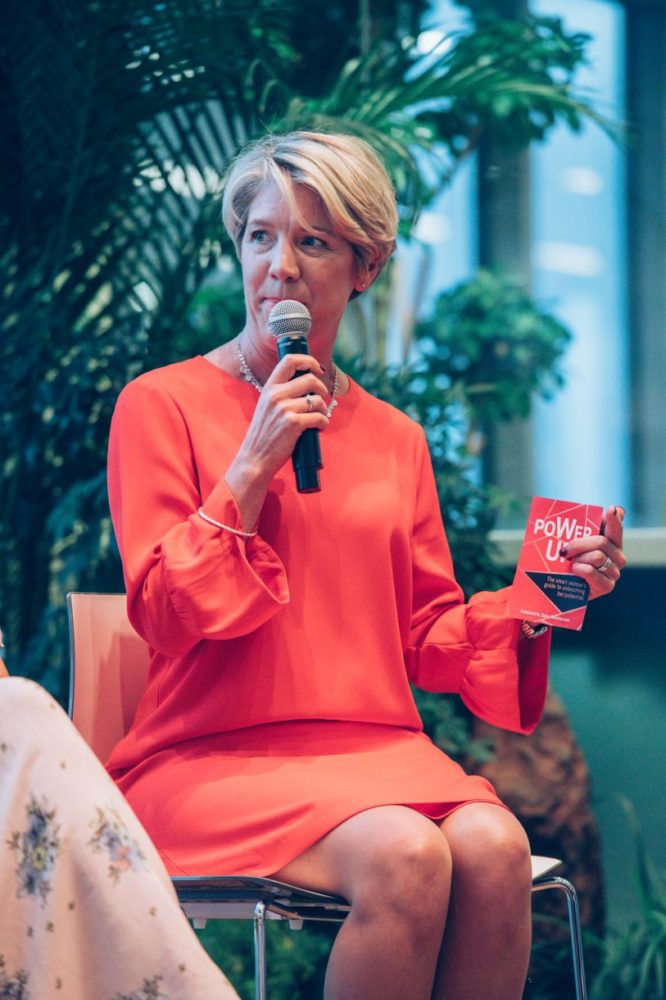 Power up your USP
'You can't 'own it' until you know what 'it' is. We so often let ourselves down when asked the 'what do you do?' or 'what are you up to atm?' questions. So have a series of what I call 'Rocket Pitches' up your sleeve – as opposed to formulaic elevator pitches – powerful stories which illustrate what you do best and are tailored to the person you're talking to.'
Power up your Intuition
'One of the biggest barriers to success for women is overthinking: we want to have all the information in hand before we act. Your intuition overrides this if you choose to listen. It isn't woo woo mumbo jumbo, it's borne out of your lived experiences and is what enables you to make quicker decisions and read situations more accurately. So tune into your inner wisdom and give your subconscious the space to be heard.'
Power up your Voice
'Fuelled by all of the above, your voice represents your inner power. To do your voice justice and communicate your wants and needs assertively, use the 3 Ps: Prepare, Practice & Pacing. Prepare: think about what you're going to say and how, Practice: use every opportunity you can to use your voice – formally and informally, Pacing: slow down your delivery, use pauses, give each word the space to breathe.'
Heather Black – Founder, Salesforce Supermums
Heather Black is the Managing Director of Economic Change, a consultancy that helps non-profit organisations enhance their impact through digital transformation, and CEO of Salesforce Supermums, a social enterprise that empowers mums to get back into the workplace with well-paid jobs that provide the sort of flexibility every working mum should have access to.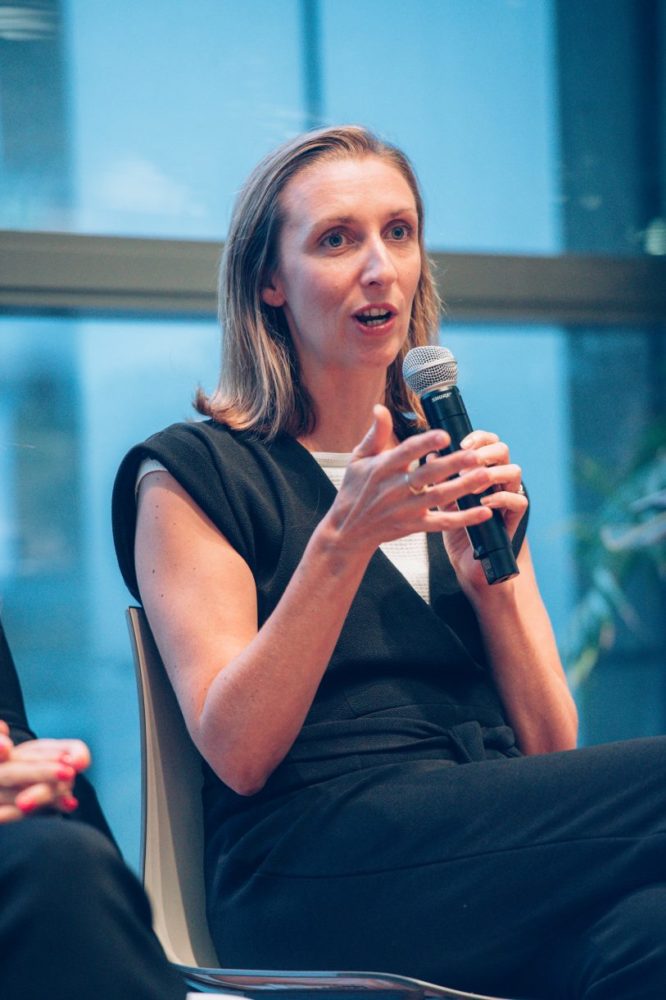 Get Inspired by a Company Culture and Leadership
'Get excited about new career opportunities with the companies you love. One of the things we tell our mum's to do is to listen to Marc Benioff on You Tube, and learn about the companies values, vision and culture. Salesforce is awe inspiring company, it's rated No 1 globally for it's product, innovation and culture by leading benchmarking brands.'
Find out how to learn more in a style that suits you
'Salesforce powers a free learning platform with Trailhead and this platform is a key part of our programme as it provides certifications along the way. Despite being free however, our mums however have chosen our programme as it gives a whole package of learning with greater direction and importantly accountability.'
Gain some valuable work experience
'It's important to gain some real-life work experience with the support of an experienced mentor or advisor. Starting at the bottom and working up can be quickly achieved in the salesforce sector if you've got grounded expertise and the right references. Don't run before you can walk.'