Over the past year the Lighthouse has hosted over seventy young people at three sessions of Tomorrow's Life Choices; our careers advice evening that aims to give an objective, open and honest view of how the attendees can best improve their future prospects and what to embrace (and avoid) in their journey to get there.
We've been privileged to welcome career mentors from leading businesses such as Shortlist Media Group, MediaCom, Google, Twitter, Facebook and Hearst. The advice shared has been neutral, at times tough, but most importantly, highly actionable for the attendees.
There have been four major themes that I have acutely noticed over our sessions:
1… An objective voice is always needed
Every attendee has had different views and thoughts of life after school, although the vast majority arrive with a clear plan of going into full-time further education. The option of apprenticeships appear to be rarely discussed at school; something of a surprise when considering 2015's National Apprenticeship Survey by IPSOS/Mori sees them often ranked higher than degree courses by employers, favoured by students and approved by parents. The discussions we had with the attendees left me feeling that the careers advice our attendees got from school was at best, out of touch, and at worst incredibly biased toward further education. Eyes literally opened when we talked about alternatives such as apprenticeships.
2… Keep it real to cut through
The objectivity of the advice shared led to the parent of one of our attendees – a leading agency CEO – commenting that "the advice they needed to hear from someone other than their parents" was invaluable.
Shared knowledge from industry leaders highlighted the importance of managing personal profiles, how to make the best impression and knowing exactly how to prepare themselves for life after school – it was fascinating to watch our attendees frantically scribble down this real world advice.
We were hugely fortunate to have Mike Soutar share his interview wisdom at two of our events; his hugely respected business acumen shone through, but his appearances on The Apprentice grilling contestants added an extra 'glamorous' edge that certainly made our attendees really take notice. Similarly, having great minds from the types of organisations that our attendees encounter on a daily basis (Twitter, Google and Facebook to name a few) added an incredibly potent mix of reality to proceedings.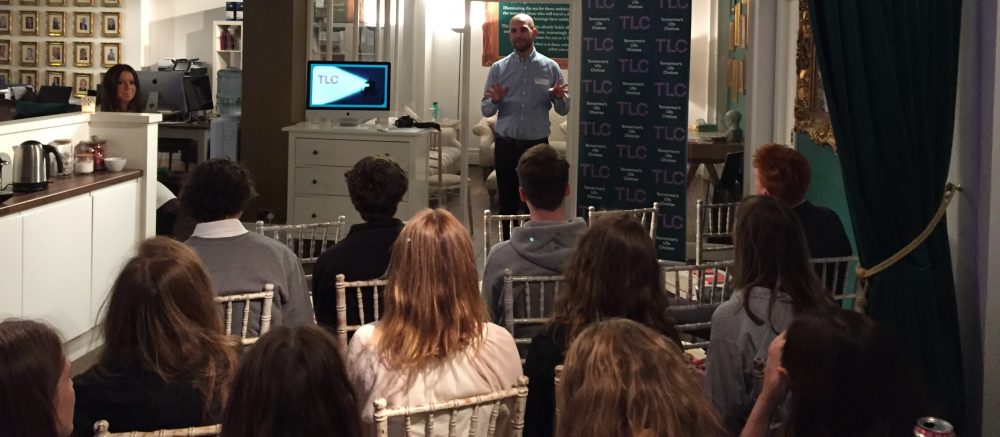 3… Your spirit is what will make you memorable
Naturally many of our attendees are focused on getting the best grades possible while at school. However, one piece of advice was common in every single session – that extra-curricular passion and openly demonstrating this to potential employers can really set one apart when competing for jobs, internships or course places. It doesn't have to be difficult or overly complicated – share a love for fashion on Instagram or place as much effort into musical abilities as academic studies – whatever their passion, we need to be encouraging the next generation to surface as much of this as possible. This was further compounded by the recent news from CHI & Partners that they would be removing CVs and photos from their entry-level recruitment process to encourage greater diversity. I'm sure we can expect many more organisations to follow suit.
4… Are parents complicit in a 'failure to launch'?
The final common theme was the lack of Saturday jobs, work experience or internships undertaken by our attendees – we heavily emphasised that a healthy balance between their educational and vocational experience is another way to be differentiated from the competition.
In the week before our last session I personally shared some careers advice with a highly educated university graduate from an affluent background who had relied heavily on her father to secure internships that she had absolutely zero passion for. Both this and the revelations at the Lighthouse events rang alarm bells – are parents inadvertently colluding in delaying the launch of their own children's future? Real life experience matters immensely and the ability to speak passionately about it certainly adds an extra layer of desirability on top of academic achievements.
And finally…
For us at the Lighthouse, helping senior leaders take their next career step is what we do, day in day out. Given the huge focus on CSR, purpose and generally 'doing good' that tops the agenda for many businesses today, it's very easy to forget about the things that already exist within an organisation's DNA. Running the Tomorrow's Life Choices events for the next generation of talent, felt incredibly natural and purposeful for an executive search firm.
In the future we may even see some of our attendees once again visiting the Lighthouse but this time with a firm eye on developing and advancing their own careers. Had I been privileged enough to be exposed to such wisdom and advice when I was a school leaver, I'm absolutely certain that I would still be taking stock of it today.